This post addresses some common questions about 10DLC brand and campaign registration. For more comprehensive information, see our A2P 10DLC page.
How can I complete a Standard brand registration?
To register brands and campaigns from the Plivo console, visit the Messaging page and click on 10DLC in the left menu. Choose Standard registration, then click Register.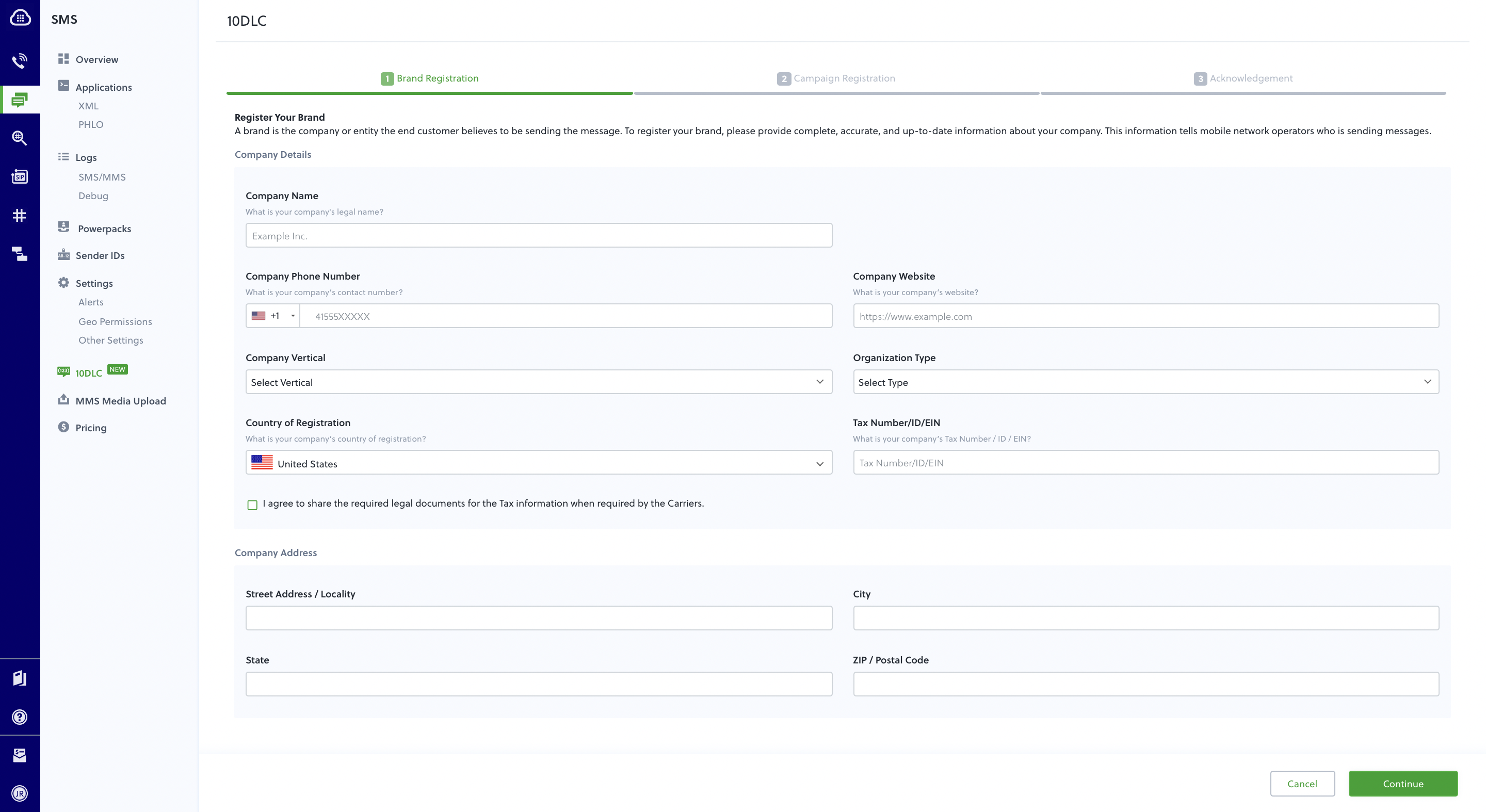 The first step is to register your brand. We ask for information about your company, such as contact information, address, website, and EIN, which The Campaign Registry (TCR) uses in their 10DLC vetting process. Provide correct information to avoid rejection by TCR or mobile network operators. You will also be asked whether you want to submit your brand for additional vetting. Plivo recommends all Standard brands choose vetting to get the best throughput.
When you've filled in all the information, click Continue.
On the next screen, we ask about how you plan to use your 10DLC number — the campaign, in other words. We ask for a campaign name and campaign type. Businesses use 10DLC for all kinds of uses — marketing messages, two-factor authentication, delivery notifications, and fraud alerts, for instance. If your message use-case involves a mix of these standard use cases, Plivo suggests you pick "Mixed" or "Low Volume" campaigns. If you select "Mixed" or "Low Volume," you will have to provide two to five campaign subtypes, which should be related to actual use cases.
Provide a brief description of your campaign and share sample messages. Ensure the sample messages are similar to your production messages.
At the bottom of the page, declare campaign attributes.
Tick the box that says you give Plivo permission to register your brand and campaign, and the one that says you agree to share tax information when required. Click Submit to send the form to Plivo.
I already have a Standard brand — how can I add more campaigns?
Each additional campaign has a monthly rental associated with it, so to keep your costs down create campaigns when only necessary. To create a new campaign, navigate to the brand page and click on the brand you want to add an additional campaign under, then click Add Campaign.
On the next screen, you'll see the brand name and ID. Follow the process above: Choose the appropriate campaign type, provide sample messages, and click Submit to send the form to Plivo.
How long does a registration take and how can I check the status of my registration?
Brands and campaigns for standard use cases, such as 2FA and account notification, are generally approved almost immediately, but some cases might take up to a week. You can check the status of your registration by navigating to the brand page. For campaigns, you can click on the brand and then check registration status of a particular campaign.
If your registration has failed or is taking longer than a week, please contact our support team.