Invoice Overview
In this guide, we will explain the different sections of your Plivo invoice. You can always access your invoices from the invoice section of our billing page on the console.
Below is a sample invoice for a prepaid customer. The invoice includes:
Invoice summary

Usage & payment summary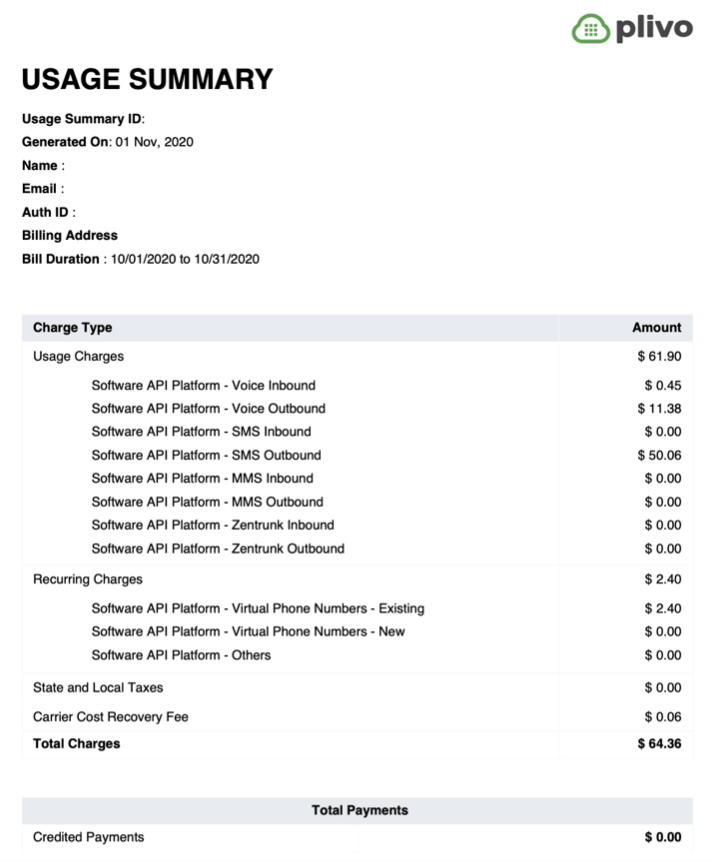 Invoice summary
This is the first section of your invoice, which contains the following information:
Usage summary ID

: A unique identifier for each month's invoice

Invoice generation date:

1st day of the month in which invoice is generated

Name & Email

: Account name & email which can be edited

here

.

Auth ID

: Your unique authentication identifier to use all the plivo services. You can read more about it

here

.

Billing address:

The billing address associated with your account. Please note that Plivo uses this address for tax calculation purposes. You can update your billing address anytime

using the billing section of

the Plivo console

.

Bill duration: Corresponds to the start and end date of the month for which the invoice has been generated.






Usage & Payment summary
The usage summary can be found on the first page of your Plivo invoice. This provides a summary of usage in the given month split by different Plivo products. You will typically find the following sections on an invoice
Usage charges:

These are either the pay-as-you-go or volume pricing charges that a customer has incurred by using Plivo products (such as SMS API, Voice API, Phone Numbers, etc) and services for the duration of the month.

Recurring charges

: These are charges that are billed to your account balance at regular monthly intervals. This includes Plivo phone numbers, shortcode rentals, and Plivo support plans.

Taxes

: Plivo calculates

applicable state & local sales taxes, telecommunication taxes, and other taxes and fees on the sale of our services, in correlation with the billing address of a customer. You can read more about taxes

here

.

Total charges

: This is the sum of total usage charges, recurring charges & applicable taxes.

Total payments

: This reflects the total amount that has successfully been paid for the month's invoice.