1. Why is Plivo including sales and telecommunication taxes on my invoice?
Where Plivo is determined to have sufficient presence in a state, locality, or foreign jurisdiction, we are required to remit applicable state & local sales taxes, telecommunication taxes, and other taxes and fees on the sale of our services based on the service address of a customer. Such taxes are imposed on a variety of communications services providers.
Historically, these taxes were absorbed by Plivo, and not passed through to our customers. However, in order to align with industry standards, we will calculate and include these taxes on customer invoices starting September 1st, 2020.
2. What are sales and transaction taxes and how are they calculated?
Sales tax is an indirect tax that is levied at the time and at point of sale, payable by the seller, as assessed at various jurisdictional level(s) (state or local). This is an indirect form of taxation as the ultimate burden is passed on to the purchaser, although the tax is being paid by the seller.
Plivo uses third-party tax calculation software to ensure that all taxes and fees listed on customer invoices are properly calculated. Plivo relies on your billing address as your service address for tax calculation purposes. You can update your billing address on the Plivo Console.
3. What is the Carrier Cost Recovery Fee and how is it calculated?
A Carrier Cost Recovery Fee ("CCRF") equal to a fixed % of invoiced charges for voice usage and direct inward dialing numbers (excluding taxes) will apply to all customer invoices. This is neither government-mandated nor a tax but is a permissible pass-through charge to recover our costs associated with certain federal regulatory requirements. It includes contributions Plivo is obligated to make to federal funds that support communications services for individuals in high-cost areas, individuals in low-income areas, and disabled individuals.
4. How can I claim exemption from taxes and/or regulatory fees if I am a reseller or am otherwise exempt from these taxes and fees?
If you believe you are exempt from specific taxes or regulatory fees, are a reseller, a 501(c)3 organization, or are in possession of a state-specific tax exemption certificate(s), you can provide a copy of the applicable exemption certification via email to finance@plivo.com. In your email, please identify the specific taxes from which you feel you are exempt and list the accounts number(s) for which you believe the exemption(s) should apply. Once we are able to verify your exemption status, we will update our account records accordingly. Otherwise, we will contact you with any questions we have. Please note that even if you have a reseller or exemption certificate, you may not be exempt from all taxes in every jurisdiction.
5. In which US states does Plivo charge taxes?
Plivo is obligated to collect and pay taxes in following US states: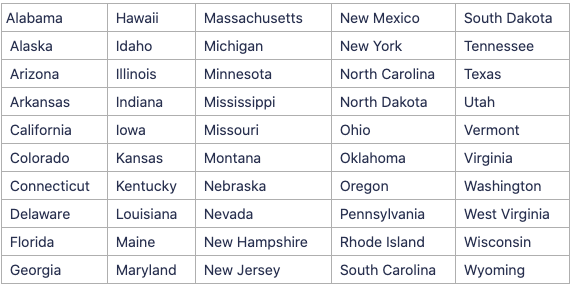 6. Can you provide an estimation of applicable taxes and fees for my account in advance?
Unfortunately, Plivo cannot provide an estimation of applicable taxes and fees in advance. Specifically, the applicable taxes and fees are subject to change depending on the nature of the services you subscribe to and your place of the primary use of the services. Further, the applicable tax rates and laws in various taxing jurisdictions are subject to change.
If you have questions regarding the incidence of a particular tax or fee listed on your invoice, you can contact us at finance@plivo.com to obtain additional information.
7. Can I update my address and ask for previous invoices with that address?
Customers can update addresses using the Plivo console at any time. However, we do not support tax computation related requests corresponding to address changes for closed billing cycles..
8. When is the tax amount charged?
Taxes are calculated at the end of each month and are assessed on the first day of the following month.You will find two new line items on your invoice, for "State and Local Taxes" and "Carrier Cost Recovery Fee" which will reflect the appropriate charges.
These additional charges may affect your balance. To avoid any service disruption, we recommend recharging the account in advance or setting up auto-recharge.
9. How can I update my address?
Customers can update their billing address using the billing section of Plivo console.