A Plivo standard account can be managed by multiple users based on the access provided to each user. Plivo offers five predefined roles that can be enabled from your Plivo account.
These five roles are:
Owner: this role is assigned automatically to the user who creates the account. This user has complete access to the account.

Admin: this role can provide administrators with access to the entire console.

Developer: this role can be used for users who primarily use the Plivo API.

Finance analyst: this role has access to payment and billing information.

Support: this role is for users who need access to Plivo data and to be able to modify settings in the account.
Every user added to an account has a role assigned to them. By default, the user who creates the account is the owner of the account. Make sure you configure roles for new users before sending them an invitation to the account.
Note:
You cannot change the owner of the account.

You may change the user roles at any point in time.
To provide any particular role access to another user, you can send them an invitation from the account by following these steps:
Navigate to the

Team

tab under Account Settings on your Plivo account.

Click "Add New User".

Enter the email address of the user who you would like to invite.

Select one of the predefined roles and click "Invite User".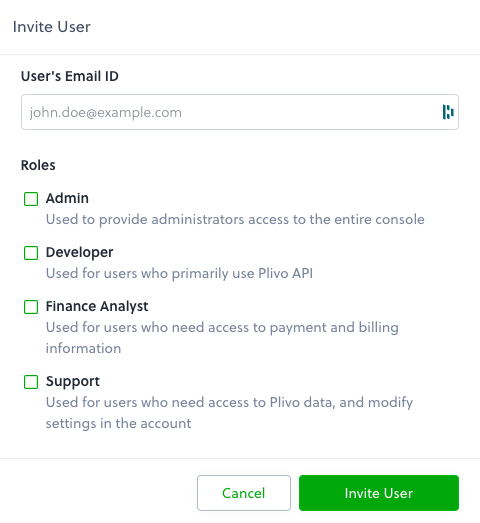 This will send out an invite to the email address specified. If the user does not have a Plivo account already, they will be prompted to create a new account. This new account created known as an invited user. An invited user may perform actions associated with their specific role in the main account. Access can be updated after the invite has been sent by simply selecting a different role.

If you no longer wish to grant access to a user, delete the invited user. This is an irreversible step. If the user does not receive an invite, you can resend the invite from your Plivo account.
Note: a user can be a member of all the accounts they are invited to join. There is no limit to the number of accounts of which a user can be a member.