When you sign up with Plivo, you will be given a free account trial to try our platform risk-free. This trial account is equipped with free credits for testing and using our services. To start, purchase a number using the Plivo console. Once we have a number and credits in the account, you will be able to start testing Plivo's voice and SMS APIs.
Register here to get your free Plivo account today. Then, follow these steps to successfully complete the sign up for your free trial account.
Sign up with your corporate email address

Check your inbox for the activation email from Plivo. Click on the link included in the email to activate your account.

Enter an SMS-enabled, a non-VOIP number to complete the phone verification.
Sign up with your corporate email address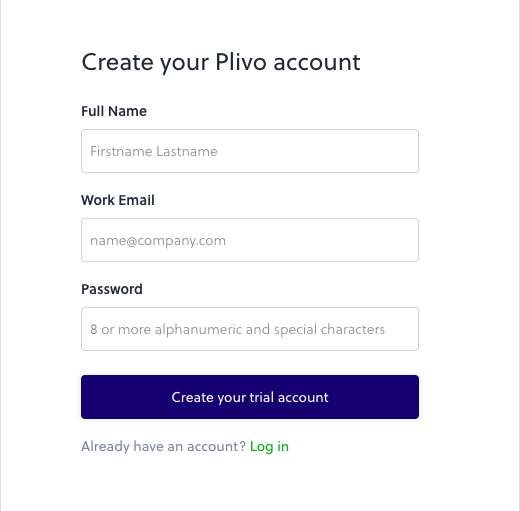 Plivo has certain security protocols in place that tend to flag sign-ups made from a public domain email address, such as @gmail, @hotmail, etc. For this reason, we recommend that all our customers sign up using a corporate domain email address.
If you face any issues while signing up, please reach out to our Support Team for assistance.
Activate your email address
Check your inbox for an activation email sent from Plivo to confirm your trial account. This email contains a link; click on that link to successfully enable your account. The account will remain inactive until the link is clicked.
Check your Spam or Trash folder if you do not receive an email. Check your firewall settings to make sure your inbox does not block emails from Plivo.
Didn't receive the email yet? Please reach out to our Support Team for assistance.
Verify your phone number
To complete signup, you must enter a valid, SMS-enabled, non-VOIP number to pass the phone verification step. Enter a valid number and avoid adding any spaces or a hyphen between digits.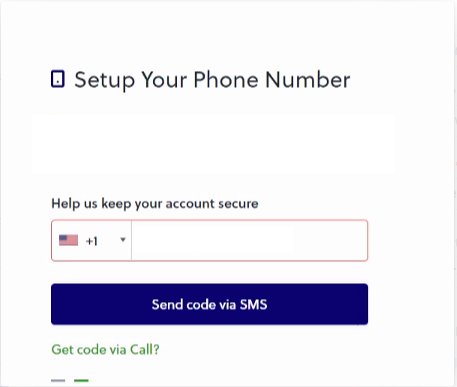 The Plivo account creation process is incomplete without verifying a phone number – this is a mandatory security step. If you have entered a valid number, and are unable to receive a code from Plivo via text message, you can select the option to receive a code via phone call. If both options fail after multiple attempts, please reach out to our Support Team.
You must complete these three steps to successfully register your free trial account. After registering, feel free to use the account to test our Voice and SMS services.
To upgrade your account to Standard, and overcome the limitations of a Plivo free trial account, click here. Learn more about our services in the Plivo Document Library.